Valetta Cranmer (nee Penketh) was only two years old when her first cousin Harold lost his life. Needless to say she never knew him but has always had a photograph of him in his RAF uniform, with his father Jim Penketh's handwriting on the back: 'Born 20 May 1920, taken to a higher life 22 November 1940'. She places a poppy by the photo every Remembrance Sunday. 
75 years later, her husband Roger was watching TV news in October 2015 and read that a Spitfire was being excavated in the Fens and realised that it was Harold's crashed plane which was being excavated in the Cambridgeshire Fens. 
The Wildlife Trust who commissioned the dig at Holme Fen had been hopeful that MOD searches to trace any known family would prove fruitful during the preceding months, however, no known relatives were found before the dig started, and so when Valetta made contact with the Trust during the excavation week it came as a welcome revelation.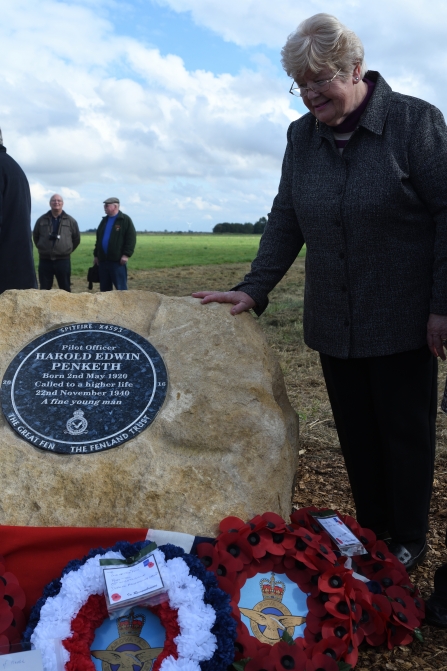 'My first thought was this is a wonderful thing, I felt so pleased that Harold was being honoured - and remembered - in this way, and that a missing piece of the jigsaw was being fitted; we had previously thought he had been lost at sea. It's an amazing story and we are so very proud to be taking part in such a memorable and historical part of Harold's life. Sheila and I are so grateful that this excavation happened, it has meant a lot to us - and we are very much looking forward to meeting everyone involved in the memorial dedication. We know how very proud his parents would be of their very brave young son – as are we. For any parent it's devastating to lose a child - I think that Jim and Nancy never really recovered; on the few occasions that we saw Uncle Jim I do recall him being upset.'  - Valetta Cranmer
Valetta was born to Aaron and Helena Penketh in Sandbach, Cheshire – a farming and musical family; her father had a beautiful singing voice and Helena was a pianist. Valetta's life too has been full of music, she had singing training for more than a dozen years and became a soprano soloist, performing all over the north west. For the last 52 years she has also been conductor of the Sandbach Ladies Choir, having been invited to the role in 1964 and they now number more than 50 and regularly perform. Valetta was awarded the British Empire Medal two years ago for services to music and charity work. Husband Roger, having had a lifetime's work in engineering (with Folland Aircraft, then British Aerodynamics then with Rolls Royce) also sings in the Biddulph Male Voice Choir.
Aaron was a younger brother of Jim Penketh (Harold's father) and they all grew up, as had many previous generations, in Cheshire. Despite being a family of seven - Emma, Jim, Bill, Mary, Aaron, Tom and Sidney, there were only three children in the following generation - cousins Harold, Valetta and Sheila. Sheila Morris, who lives in Warrington, was born to Mary Penketh. Harold's parents Jim and Nancy moved to Brighton before the war, so contact between the families became more sporadic. Valetta grew up believing that Harold had been lost at sea.
I was taken aback to hear about Harold's plane being discovered and it made me feel quite emotional initially. Valetta and I had not been in contact for years, and we now speak to each other every week.' Sheila's mother Mary died when Sheila was only six years: 'If my mother was still alive she would have been able to fill in all the gaps, I have so many questions to ask.' 
First cousin Sheila Morris