When plans were being made to drain Whittlesey Mere, a group of local landowners agreed that they would work together and fund the work in return for a share of the drained land. The group was led by William Wells of Holmewood Hall, who was the driving force behind this huge undertaking.
William was ahead of his time in many ways and realised that as the peaty land was drained, the peat would act like a squeezed sponge and shrink as the water drained away. In order to measure what was happening, he decided that a gauge should be installed at what was one of the lowest points in the whole area and country.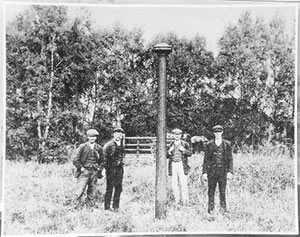 In 1848 a timber post or pile was set up by John Lawrence, the engineer in charge on behalf of William Wells. The base of the post was embedded in the clay layer that underlies the peat and the top of the post was cut off level with the soil surface. At this time the post was about half a mile from the edge of the Mere and there was about 22 feet of peat from the soil surface down to the clay layer. 
Work started on the drainage of the Mere and very quickly the soil surface started to shrink downwards. In 1851 the timber post was replaced by a cast iron column which is reported to have come from the Crystal Palace in London. This iron post was embedded, again on an oak pile driven down to the clay layer, with the top of the post at the same level as the old wooden post. As the iron post was progressively exposed it became unstable, and steel guys were added in 1957, when a second iron post was added 6 m to the northeast; both posts are standing today. 
Measuring the shrinkage
Measurements of the shrinkage have been taken at intervals over the years, immediately after drainage a subsidence of nine inches a year in the soil level was recorded; shrinkage was very fast in the first thirty years. Today approximately 4 metres of the post is showing above ground recording the ground subsidence since 1852.