Presidents and Patrons 
We are extremely grateful for the support of our President and Patrons, past and present.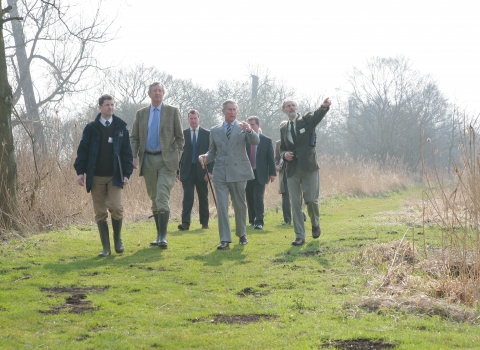 Royal Patron
It is with great delight that we can confirm that His Royal Highness The Prince of Wales has extended his Patronage of the Great Fen for a further term.
His Royal Highness The Prince of Wales first visited Woodwalton Fen, at the heart of the Great Fen, in March 2007. In April 2007 Stephen Fry, President of the Great Fen from 2006, wrote to The Prince of Wales inviting him to become Royal Patron of the Great Fen. Back in 2013 His Royal Highness announced he was extending his patronage for a second term (until 2018) so the confirmation in 2019 of a further term is exceptionally inspiring.
Stephen Fry, Great Fen President

Actor and broadcaster Stephen Fry became President of the Great Fen in 2006.

"In a lifetime given over to fatuity, frivolity and foolishness it pleases me to know that I have done one thing right. I have become involved with the Great Fen project."

Stephen's support for the Great Fen has included launching the Great Fen concerts in King's College, Cambridge and holding a fundraising dinner in Queen's College, Cambridge. 

Stephen grew up in this region, and has a special affinity with the area.  He said: 

"I cannot recommend warmly enough a visit to the Great Fen. Only when you have communed with its wetness, wildness and wondrous wealth of wildflowers, songbirds, birds of prey, reeds, sedge and trees will you properly appreciate the staggering beauty and importance of this unique habitat."
John Major

Sir John Major, the former Prime Minister and for 22 years MP for Huntingdon, became a Patron of the Great Fen in 2005.

"What delights me as someone who has lived in the area a long time is seeing this land being brought back into traditional use."

"Unique is a word that is used too frequently, but this really is a unique project and landscape."
Beth Rothschild

Beth Rothschild is the grand-daughter of Sir Charles Rothschild, who bought the first ever nature reserves in Britain, including Woodwalton Fen. She has given support to several international environmental organisations focused on protecting biodiversity, and in particular plants and their habitats. Her work in the field of horticulture has also contributed significantly to progress in conservation and environmental issues. She became a Patron in 2007.
Tim Smit

Sir Tim Smit is a Dutch-born British businessman, famous for his work on the Lost Gardens of Heligan and the Eden Project, both in Cornwall.  He became a Patron of the Great Fen in 2007. 
Nigel Marven

Nigel Marven is a British wildlife presenter, television producer, author, and ornithologist.  His work as a producer for the BBC included   Incredible Journeys and The Life of Birds with David Attenborough and he went on to be the presenter of Walking with Dinosaurs and many other wildlife programmes. Nigel became a Patron in 2009 and his support has included giving a special talk in Cambridge to raise money for the Great Fen. 

"I was so impressed by the dedication and enthusiasm of the staff and volunteers, I jumped at the chance to be a Patron of such an important and heart-warming project. In my lifetime, I am sure, that with a bit of help from all of us, flocks of majestic cranes will be gliding down to nest in England's Everglades."