The Great Fen is an expanse of nationally significant fen landscape between Peterborough and Huntingdon, Cambridgeshire. The area contains many farms and villages as well as two National Nature Reserves, Woodwalton Fen and Holme Fen, home to some very special wildlife.  
It is a great place to visit, with many talks, activities, adventure trails and events taking place at the Wildlife Trust Countryside Centre.
This area was once 'wild fen', a landscape rich in wildlife, but has seen dramatic changes through an eventful history. In the 17th century the fens of Eastern England were drained to create peat-rich farmland. This resulted in 99% of the wild fen being destroyed. Woodwalton Fen and Holme Fen are two of the last remnants that remained but they were too small and isolated to continue to support the special fenland wildlife that had survived. 
The Great Fen has also faced a second challenge - drainage and farming of the land has contributed to a rapid decline of peat. This loss has meant current farming practices are not sustainable in the long term and puts local livelihoods at risk. Peat loss is also bad for the environment as it causes carbon to be released into the atmosphere. The area needed landscape scale change.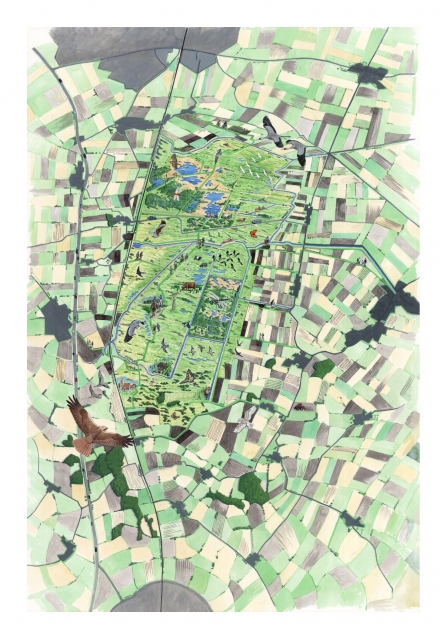 The Great Fen Vision 
In 2001, five organisations came together to set out a vision for the Great Fen, with the aim of providing a more sustainable future for the area.
Undertaking extensive local consultations and utilising all available research they set out plans for an ambitious 50-100 year habitat restoration project, with 14 square miles of land restored to wild fen, creating a huge nature recovery network.
Connection of the two National Nature Reserves giving the specialised species they hold enough space to thrive.
An area large enough to support threatened fen wildlife, such as bitterns and otters.
A mosaic of different wetland habitats that will support a wide variety of speciality wildlife, such as dragonflies, butterflies and amphibians.
Suitable habitat for flowers and other plants found almost nowhere else in the UK, such as the Fen violet and the Fen woodrush.
Sensitive areas and wildlife protected from heavy disturbance through zoning.
Other benefits of the habitat restoration would include:
Reduction of peat loss, safeguarding carbon and saving an estimated 325,000 tonnes of CO2 from being released each year.
Reduced risk of flooding in the locality, with particular areas providing extra water storage after heavy rainfall and helping to protect surrounding towns, villages and farmland from the risk of flooding.
Local communities linked together and connected with nature through creation of miles of new footpaths, cycleways and bridleways.
Celebration and preservation of fen heritage through education and outreach programmes.
Read about the Big Ideas transforming the Great Fen
Learn about the restoration project progress
Great Fen Map
Please zoom in to the map below to explore the Great Fen.
Visit our sites to visit section for more info on these places or click the red icons. The new areas are places now owned by the Great Fen and include areas being restored for wildlife and working farms.