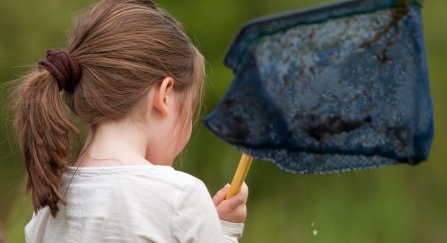 Educational Visits
The Wildlife Trust Countryside Centre Ramsey Heights is the home of education for the Great Fen. We offer a range of quality experiences to schools wishing to visit our 10 acre site set in the heart of the fens. The Great Fen Education team provides exciting, innovative and enjoyable programmes of study for a full day of activities on the reserve. We pride ourselves on a relaxed yet comprehensive delivery of our education work provided by our professional, friendly and enthusiastic team.
The value of a visit to The Great Fen

Scientific studies suggest taking time to connect with nature has a positive impact with a person's health and wellbeing and this is particularly noticeable with young people. We are always being told by teachers that they see huge differences in behaviour, confidence and personality on these visits as the children are in a completely different environment and context. These insights are often unexpected! They see evidence of leadership and teamwork in a way that is not evident in a usual classroom environment.

Benefits of outdoor learning:

A healthy and happy body and mind
A sociable, confident person
A self-directed and creative learner
An effective contributor
An active global citizen
Encourages creative development
Encourages a respect and understanding for the environment.
Program details

We currently offer programs for Early Years/Reception, KS1 & KS2 which have been developed with teachers to meet the National Curriculum. The pupils are introduced to our Fen. 

Friends for the day to help them explore a program of targeted activities to introduce the main habitats on the reserve. These include pond dipping, mini-beast hunting, sweep netting, den building and the introduction of equipment such as binoculars, specimen pots and maps.

Acorns To Oaks – Early Years / Reception

The wildlife of the Great Fen is introduced through magical, interactive story-telling and exploration. The concepts of habitats and camouflage are introduced through the various activities. This program can be offered as a full or half day visit.

Newton's Explorers

Help Newton, the great crested newt, to explore the habitats and wildlife waiting to be discovered within the Great Fen. The children are encouraged to identify habitats and the species within them through exciting activities and user friendly resources.

Wildlife Investigators

Become a Great Fen Wildlife monitoring Officer for the day tasked with the discovery and identification of species and their habitats. The ideas of adaptation and food webs are also introduced and explored.
What does a visit include

A free and highly recommended pre-visit to discuss your activities, outline our health and safety policy and see where the activities will take place.
Use of our Countryside Classroom where bags can be left and lunch can be taken in the event of inclement weather.
Toilet facilities including disabled toilet.
Fully qualified, experienced and enthusiastic members of staff and trained volunteers to lead the activities.
All equipment, identification charts and details of all activities
Suggested schedules for the day's activities sent to you in advance.
Health and safety information and full site and activity risk assessments.
Free parking.
Free places for teachers and helpers.
How do I make a booking?

We recommend you book as early as possible as we do get very busy during June and early July. Please contact us to check availability and discuss your needs via info@greatfen.org.uk or 01487 815524. 

If you decide to visit you will need to:

Contact us regarding availability of your preferred date.
Provisionally book a date.
Confirm the date after transport, staffing etc. has been arranged.
Arrange a pre-visit to let us know what programme you would like to do and what you want the children to achieve during their visit.
Distribute health and safety information, schedules and any instructions to accompanying teachers and helpers.

Once you have booked we will send you, in advance, all the information you will need. This will include:

A suggested schedule for the day.
Health and safety information including detailed risk assessments for all activities, reserve and buildings.
A map and directions to our reserve if necessary.
An outline of the role of adult helpers.
A guide to your day out with us including what to bring and wear.
Costs & how to pay

For 2019/20 our prices are £6 per child for Early Years, Key Stage 1 and 2 with all accompanying adults free. 

We will send you an invoice before your visit; please ensure that the number of children attending is on your booking form.
I just wanted to say a very big thank you from us all for such a lovely day today. It was just perfect - the activities, the friendly staff, the organisation and the relaxed feel throughout the entire day. The children had such fun, it was lovely to see them busy and enjoying all the lovely activities you planned. Several asked if we could go again tomorrow!