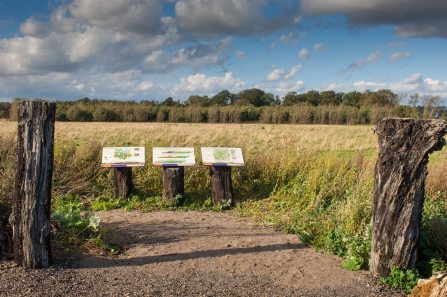 New Decoy - Information Point
Located at the heart of the Great Fen area, this is a great place to start your visit and get your bearings. There are maps, information and you can take a short walk past ponds, wet meadows and trees to a unique bird hide. Alternatively, you can walk a much longer way-marked path following the Last of the Meres Trail which links many of the areas that are under restoration.
You will immediately appreciate the vast flat landscape under a huge fenland sky. There are woods in the distance, to the northwest is Holme Fen and away to the south is Woodwalton Fen, both National Nature Reserves and two of the last surviving fragments of the wild, uncultivated fens. The whole area between the two woods and much more beyond them is now the designated Great Fen area.  Some of this land is under restoration, while other parts are still being farmed. 
In 2010, restoration began on the fields in front of the Information Point and these are already becoming wet meadows. This land was previously part of New Decoy Farm and the remaining farm buildings can be seen to the northeast, right of the bird hide. These buildings are where, the new proposed Visitor Centre would be built.
History Highlights

 Near the carpark are the remains of Halfway Farm, presumably marking the halfway point along Long Drove between Holme village and Ramsey St Mary. There is a old walnut tree and well which remained when Halfway Farm bungalow was demolished many years ago. Several generations of the Robinson family farmed the land here and the new ponds have been named in their memory. 

The railway line from Holme to Ramsey was built in 1867 and ran for just over 100 years until 1972. The track was mainly used to transport goods, taking agricultural produce across to the main north-south railway line at Holme. Before the railway was built, several of the farms in the Woodwalton area laid short tramways, as a means of moving produce over the light peat soils to the main drains or dykes when barges were used for transport onwards or to the dock alongside the mainline railway at Holme Station.  

The branch line was only 5 miles long and the journey took just 9 minutes. There were hand-operated level crossings on the B660 and also the minor road that runs north into Holme Fen. In both cases cottages were built for the crossing keepers and the buildings are still present today.
 

Photo: The Great Fen - Last train leaving Ramsey in 1972
Wildlife

New Decoy is a fantastic reserve to visit to experience wildlife. The fields and verges provide a perfect landscape for wildlife, in particular corn buntings, dragonflies and harriers.  

As restoration work continues, the wet meadows should be attractive to breeding waders and flocks of wildfowl in winter, while during summer there will be dragonflies and butterflies around the ponds and in the ditches along the trail. 

Goldfinch (Carduelis carduelis) Perched on a snow covered branch - Fergus Gill/2020VISION
Jon's Hide

New Decoy has a bird hide which is open all year. This has been constructed from locally sourced materials, in particular straw bales. The hide is now known as Jon's Hide in memory of Jon Smith, the Great Fen Restoration Officer who was responsible for its creation.

 

Photo credit: Guy Pilkington - Jons Hide