The Wildlife Trust Countryside Centre 
The Wildlife Trust Countryside Centre is located at the centre of Ramsey Heights nature reserve and hosts many action packed family events. The reserve has a dedicated pond-dipping pond, minibeast area, den building sites, a bird hide, an outdoor classroom and a bodgery with a fire pit.
The nature reserve is free to visit at any time throughout the year and is dog friendly. Please keep dogs on leads and under control.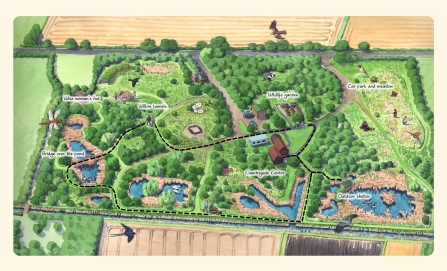 The secret past of The Wildlife Trust Countryside Centre

This was not always a nature reserve! The Wildlife Trust Countryside Centre is a converted Victorian brickworks. The building itself still retains many of its original features and visiting groups can peer into the old brick kilns and see the harbour where barges collected bricks to transport out into the fens.
Wildlife

There is a surprising variety of wildlife on this relatively small 9-acre nature reserve creating a fantastic opportunity to experience a vast variety of birds, in particular robins, great tits, woodpeckers and red kites.  

Brown hares and small muntjac deers are often seen at Ramsey Heights. As you walk along the long drain, look out for their tracks going down the banks and through the bushes.

Red Kite hunting  - Andy Rouse/2020VISION
Events & Youth Groups

With many facilities here at The Wildlife Trust Countryside Centre, it provides an ideal area to host exciting events and clubs for all ages. If building dens, pond dipping or craft activities sounds interesting to you, keep an eye out on our events page for upcoming events!   

As well as education programmes for schools we can also offer school holiday activities for Scouts, Brownies and other youth groups.  

Family pond dipping - Paul Harris/2020VISION
This small reserve is a ideal place for families or those with any disabilities to explore the inter-connected worlds of plants, animals and fenland heritage through a short walk round ponds, reedbeds and meadows.
Toilet facilities and the car park are open when staff are on site, which is generally Monday - Friday, 9am - 4pm, but could sometimes be closed if we are working off-site. The surrounding nature reserve is free to visit at any time, throughout the year. You may park in the lay-by outside the car park gates when they are closed. Please ensure the road is kept clear at all times.