Since the 1800's wildlife has been recorded at Holme Fen and Woodwalton Fen. What started out as wildlife recording has developed into more structured programme of survey and monitoring. To understand the benefits of the restoration work at the Great Fen we need to gather data before, during and after.
We gather information about the farmland, the land being restored and the existing nature reserves in this diverse Living Landscape, and on the movement of wildlife within it and, in and out of the Great Fen area. The information gathered on groups of species and their habitats then shapes the future management of the landscape.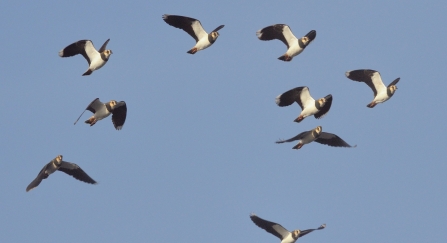 The annual programme of monitoring on the Great Fen is coordinated by the Great Fen Monitoring and Research Officer, Henry Stanier, This helps to determine the effectiveness of restoration and the development of habitats and colonisation of species. This involves working alongside project partners, academic institutions and other landscape scale restoration projects.
The work is carried out by a team of dedicated volunteers as well as Wildlife Trust staff, Natural England staff, contractors, local natural history societies, university students and visiting naturalists.
A wide range of wildlife is monitored as part of the programme including birds, mammals, invertebrates, amphibians and plants. The abiotic conditions are also measured to record temperature, rainfall, water table levels, water quality and carbon emissions. This enables us to look at any correlation of species movement and population with changing environmental conditions and feeds into national schemes measuring climate change. 
If you would like to find out more or volunteer as a Great Fen monitor, please contact Henry Stanier.