Holme Fen 
Managed by Natural England, Holme Fen is a thriving nature reserve across 657 acres of landscape. Explore the finest silver birch woodland through a network of paths and discover the famous Holme Post, where you will be 2.75 metres below sea level, the lowest land point in Great Britain. 
Holme Fen is home to a variety of wildlife species throughout the year. The meres have islands and shallow banks which encourage birds, dragonflies and marsh plants including over 500 types of fungi, enabling the reserve to be designated as a Site of Special Scientific Interest (SSSI).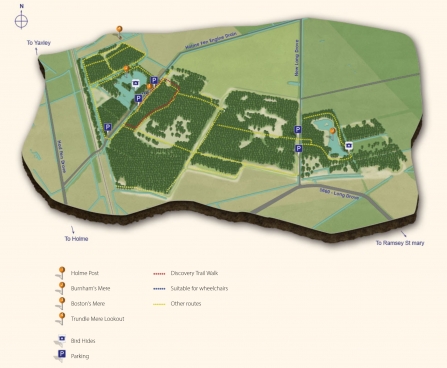 Explore Holme Fen

 If you had visited Holme Fen a few hundred years ago, you would have had a view of the largest lake in southern England - Whittlesey Mere. An impressive three miles across, it was a place for ice skating, sailing and home to many species of wildlife found nowhere else. Some of these species, including the large copper butterfly, became extinct when the mere was drained to create farmland in the 1850s.  

Today however, Holme Fen provides a network of pathways across the nature reserve allow you to do your own exploring. The Lost Lake discovery trail is a way-marked walk which starts at the Holme Post. Approximately 1 mile long, the trail loops you through the reserve back to the posts. The woodlands create a perfect environment for many different habitats, including an array of birds on the meres. 

Please note barbecues, fires and camping are not allowed at Holme Fen due to danger of igniting the underlying peat.
A Fragment Remains

After drainage, an area on the Mere's south western shore was still too wet for farming. This became Holme Fen and survives as one of the only fragments of ancient wild fen. There are still small areas of acid grassland and heath as well as small pieces of raised bog. However, drainage of the adjacent areas meant that this National Nature Reserve itself dried out and became the largest Silver Birch woodland in lowland England. One of the aims of the Great Fen restoration project is to prevent further damage to this habitat by ceasing to drain the surrounding land.

The Great Fen - Holme Fen Map
Holme Fen Posts

Credit : Sarah Lambert - Holme Fen Posts

When plans were being made to drain Whittlesey Mere, William Wells realised that during the drainage process the peat would act like a sponge and subsequently shrink as the water drained away. William decided that a gauge should be installed to measure what was happening to the land.  These posts can be seen along the northern road through Holme Fen.
Holme Fen Wildlife