Coming your way, or already in your neighbourhood? Help gather useful records in and around the Great Fen, and further afield, to support conservation and enable us to get a better picture of where these animals are.
A number of our long term monitoring projects have produced records of some of our native carnivores, and raised the question, where are they in relation to our nature reserves, are on the reserves, are they nearby?
Some species were once common and have gone extinct locally, others are in decline, but often the records of such animals are few in number, certainly much less than you might expect. We would really benefit from more information and so this is how you can help.
The weasel family
The weasel family is one of the most under-recorded groups, and of those the polecat provides an exciting and timely opportunity to gather some very valuable data about the return of one of our most enigmatic animals. As with the rest of the weasel family or mustelids, they have relatively short legs, short, round ears, and thick fur. Most mustelids are solitary, nocturnal animals, and are active year-round. 
The return of the polecat
The polecat (Mustela putorius) is of considerable conservation significance in Britain. This is particularly so because of its current recolonisation of many areas of lowland Britain from which it was trapped to extinction at the end of the 19th century.
By the end of the 20th century polecats had recolonised England as far north as the southern fringes of Manchester, as far south as Wiltshire, and east into Derbyshire, Leicestershire, Northamptonshire, Oxfordshire and Berkshire. A survey conducted during 2004-2006 suggested that the polecat's main range has continued to expand in central and southern England.
At the start of the 21st century the polecat's conservation status in Britain is much more favourable than it was a hundred years ago. Provided that no new serious threats emerge to halt the current recovery, it seems likely that the polecat will become widely re-established in mainland Britain.
With the help of volunteers and local record centres we are putting this animal on the map, and the exciting news is it has recolonised Bedfordshire, Cambridgeshire and Northamptonshire and is making its way into Suffolk.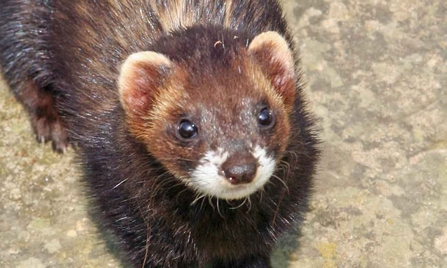 How can you help?
Since 2015 we have been on the lookout for these secretive mammals. For the most part you will only see these animals when they cross your path, a blur as they rush past, but sometimes, if you are lucky you may see a family at play, and once you have such an encounter, they may continue playing for some time,
As of 2021, this species has been recorded less than 5 miles from the Great Fen, so please contact Henry Stanier with sightings of any member of the weasel family – polecat, stoat or weasel, in the following format:
Your name (if you were the one who saw the animal).
What species it is, with a description, especially if you are not sure what it was.
Time and date seen.
Where you saw it, with a grid reference. You can use the following link to find the grid reference (e.g. TL 31828 59718) http://gridreferencefinder.com/gmap.php
What it was doing
A photograph if it is possible to get one safely. Do not risk yourself or others on the road!
In some cases, we can take any fresh road casualties of polecats, to confirm the species and this also gather additional data, so finding out about a sighting quickly is very helpful.
Thank you!