Wetlands are some of the most diverse ecosystems on Earth. They are also underrated but irreplaceable tools for slowing the pace of climate change and protecting our communities from storms and flooding.
Wetlands are extremely efficient at pulling carbon dioxide out of the atmosphere and converting it into living plants and carbon-rich soil. The loss of these habitats, particularly peatland habitats like those of the Great Fen is a great cause for concern.
In the fens of Eastern England a volume equivalent to 1,800 Olympic swimming pools of peat is lost each year due to arable farming, generating well over 100,000 tonnes of CO2 each year. By restoring peatland at the Great Fen we are trapping greenhouse gases and providing natural flood defences.
A 2017 report for DEFRA by the Centre for Ecology and Hydrology, Bangor stated that: "Conservation managed lowland fens appear to be among the most effective carbon sinks per unit area in England and Wales, whereas lowland peats under intensive arable agriculture in England are probably the UK's largest land-use derived source of carbon dioxide emissions."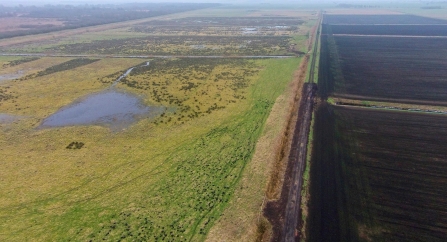 Measuring carbon
We work closely with the UK Centre for Ecology & Hydrology (UKCEH) to monitor carbon emissions and carbon sequestration at the Great Fen and across the fenland of East Anglia. Measurements from a carbon flux tower (a special device that monitors ground and atmospheric conditions in a local area) are routinely used to assess how much carbon is being lost and how much retained in different habitats. The tower is part of a network gathering data across East Anglia. This data not only aids our understanding of the local environment it is also used to inform global climate models.
As former arable land is restored and the National Nature Reserves of Woodwalton Fen and Holme Fen connected, greenhouse gases are trapped in plants and soil. Habitat restoration has multiple benefits from enhancing wildlife diversity and improving access to nature for people, to creating natural flood defences and reducing greenhouse emissions. For arable land currently in use our new Water Works project is pioneering new wet farming techniques that will stop the loss of peat and help restore it. Without these innovative approaches the loss of peat will be unsustainable, reducing the fertility of the land, releasing greenhouse gases and affecting the future of farming in the fenlands. Find out more...